San Antonio News: Dan Duryea Interview (1958)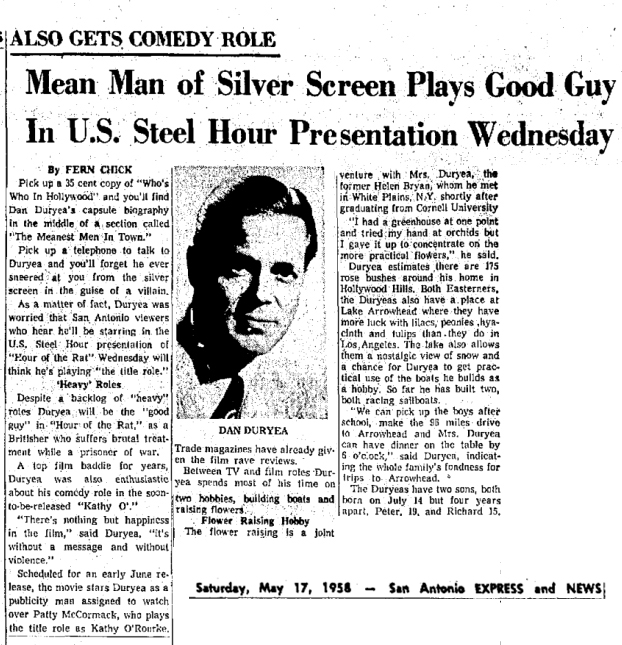 San Antonio Express and News
Saturday, May 17, 1958
by Fern Chick

MEAN MAN OF SILVER SCREEN PLAYS GOOD GUY
IN U.S. STEEL HOUR PRESENTATION WEDNESDAY

Pick up a 35 cent copy of "Who's Who in Hollywood" and you'll find Dan Duryea's capsule biography in the middle of a section called "The Meanest Men in Town."
Pick up a telephone to talk to Duryea and you'll forget he ever sneered at you from the silver screen in the guise of a villain.
As a matter of fact, Duryea was worried that San Antonio viewers who hear he'll be starring in the U.S. Steel Hour presentation of "Hour of the Rat" Wednesday will think he's playing "the title role."
Despite a backlog of "heavy" roles Duryea will be the "good guy" in "Hour of the Rat," as a Britisher who suffers brutal treatment while a prisoner of war.
A top film baddie for years, Duryea was also enthusiastic about his comedy role in the soon-to-be-released "Kathy-O."
"There's nothing but happiness in the film," said Duryea, "It's without a message and without violence."
Scheduled for an early June release, the movie stars Duryea as a publicity man assigned to watch over Patty McCormack, who plays the title role as Kathy O'Roerke. Trade magazines have already given the film rave reviews.
Between TV and film roles Duryea spends most of his time on two hobbies, building boats and raising flowers.
The flower raising is a joint venture with Mrs. Duryea, the former Helen Bryan, whom he met in White Plains, N.Y. shortly after graduating from Cornell University.
"I had a greenhouse at one point and tried my hand at orchids but I gave it up to concentrate on the more practical flowers," he said.
Duryea estimates there are 175 rose bushes around his home in Hollywood Hills. Both Easterners, the Duryeas also have a place at Lake Arrowhead where they have more luck with lilacs, peonies, hyacinth and tulips than they do in Los Angeles. The lake also allows them a nostalgic view of snow and a chance for Duryea to get practical use of the boats he builds as a hobby. So far he has built two, both racing sailboats.
"We can pick up the boys after school, make the 93 miles drive to Arrowhead and Mrs. Duryea can have dinner on the table by 6 o'clock," said Duryea, indicating the whole family's fondness for trips to Arrowhead.
The Duryeas have two sons, both born on July 14 but four years apart. Peter, 19, and Richard 15.