Large Plush Hobbit & Dwarf Doll Accessories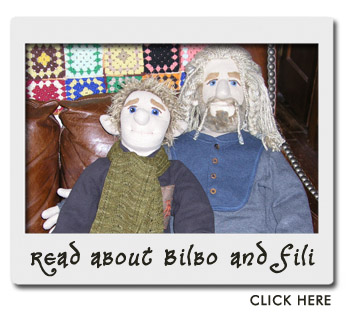 This page discusses the fun of accessorizing your large Hobbit or Dwarf Plush Doll, but you could also carry this over to any doll you currently own, or even to your children! If you haven't seen these dolls, then just click on the photo at left to read about them.

Working with hobbits and dwarves, you have to leave many of your human notions behind. We quickly learned that, unlike people, the clothes are a small part of the image. What really matters are what we call the accessories. Fili and Bilbo call it the "important stuff". Eventually, we will say "enough is enough" to the clothing end of this journey. The real adventure likes in the acquisition of Things for our dolls. It feeds the hungry imagination and adds a great amount of satisfaction to the project. Did you know that leather purses (the more used the better) can easily be modified into backpacks for these dolls? No one who's looked at our dolls' bags has thought they were anything less than wonderful (and creative on our part to think of it). Then comes the real fun: Accessories.
We're going to show you some of the items which we've already collected, but we promise to update periodically as we acquire new "important stuff". We want you to think outside the box and join in the spirit of things when accessorizing your doll. In fact, you don't even really need a doll to start with. Olivia's unmade Kili doll (the designer is always the last to make their own) already has a backpack filled with accessories which we've been collecting for her for a year. While you're waiting for Olivia to make the doll for you, you can begin collecting its "stuff". You could also carry this over to any doll you currently own, or even to your children, and fill a purse or school backpack with fun Middle Earth-y items. Your kids don't need to be under three feet tall and have furry feet to enjoy playing with a bag full of hobbit, dwarf or elf style items!
More photos and updates will be posted as we expand Bilbo and Fili's clothing and accessories. If you'd like to discuss ordering a doll of your own (or custom accessories), then just browse through the info below and send an e-mail to us.
Doll Accessories: Custom Dwarf Boots
------------------------------------
These boots are hand-sewn to fit your dwarf doll. Photos below show Thorin's boots (as seen in "The Hobbit: An Unexpected Journey"), but Elizabeth can make them in a variety of styles. Materials used are a wool-blend felt, leather and faux fur. Each pair of boots is individually made, so there will be slight differences from the photos.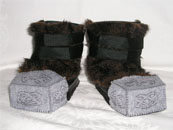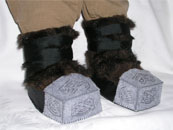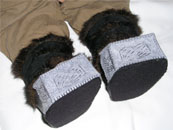 Click on the photos above to see full-size pictures.
Custom Orders Available
Doll Accessories: Travel Bags & Gear
------------------------------------
These one-of-a-kind backpacks and accessories are sets that we've made for our dolls. The backpacks are used (the more used the better) leather purses which have been adapted. Some of the smaller pieces are recreatable, while others are certainly one-of-a-kind. And we're always finding new items, so you may not be limited to what's shown in the photos. If anything here sparks your interest, just let us know via e-mail.
Thorin's Backpack & Accessories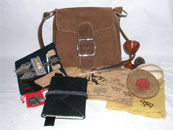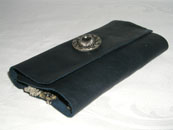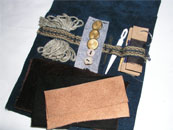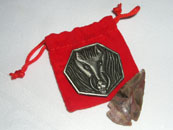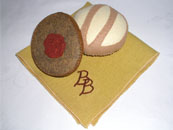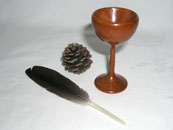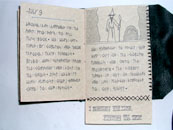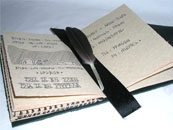 Click on the photos above to see full-size pictures.
Thorin's backpack was made out of a renovated suede purse and filled with all types of "neccessary" items for the long quest to reclaim the Kingdom of Erebor. Items include a hand-drawn copy of Thorin's map, wool-felt play food (meat and a roll) wrapped in a borrowed Bag End napkin, a miniature wooden goblet, a leather case filled with sewing and repair items (such as thread, needles, leather and velvet fabric patches, metal and bone buttons, and wool yarn), a Dwarven coin, a real flint arrowhead, a souvenir pinecone from the Misty Mountains, and a hand-written Travel Journal with quill pen.

Thorin's journal is handmade from dark leather and handwritten on parchment-coloured paper. The entries are written in English but in a font which uses Dwarven runes resembling English letters. Thorin's tale is illustrated throughout, and the book includes a few Dwarvish notes and some handsewn page extensions. Of course, since this cute Thorin doll has not been touched by any dragon sickness, his journal ends when Bilbo has entered the mountain.
Kili's Backpack & Accessories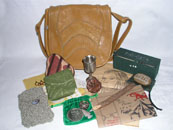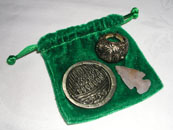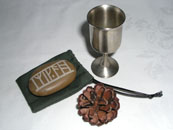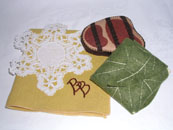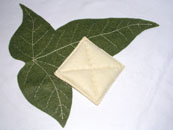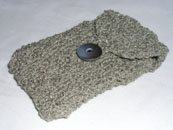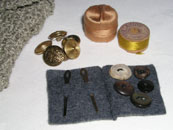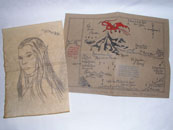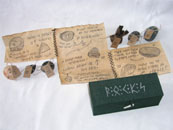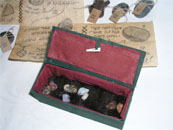 Click on the photos above to see full-size pictures.
Kili's backpack was made from a renovated leather handbag and filled with some neccessary (and some not-so-neccessary) items for the quest. Items include a "BB" napkin and doily from Bag End, a miniature metal goblet, a Misty Mountains pinecone, a dwarven coin, real flint arrowhead, a vintage adult costume-jewelry ring that looks just perfect for a large dwarvish hand, a hand-engraved "Return to Me" rune stone in its pouch (as seen in the films), a linen-silk bag (knitted by Sarah) enclosing a sewing kit (including antique silk thread and darning cotton; brass, mother-of-pearl, plastic, and caribou-antler buttons; and two large needles sized for dwarvish hands), wool-felt play food (a steak and a piece of Lembas bread wrapped in a Mallorn leaf), a large wooden pencil, a rock collection and some doodles.

We decided that Kili seemed like a great rock-collecting dwarf, so his bag includes a rock collection in a fabric covered box. Elizabeth painted the word "Rocks" on the lid in the dwarvish-looking English font and lined the bottom of the box in faux fur. Inside the little box are all kinds of rocks, some of them which we numbered and tagged. Also included is a handwritten document with drawings of the numbered rocks and notes about where they came from. Of course, there is one very special shiny rock from Mirkwood (where Tauriel once walked)!

Kili's other hobby is doodling, and this is evidenced by his large pencil, his own copy of his Uncle Thorin's map (on the back of which is a whole collection of doodles having to do with Kili and Tauriel's love song) and a drawing of his own true love, Tauriel the Silvan Elf. Kili is just a doodler, not a trained artist (very like Sarah, who made all of these things for him).
Bilbo's Accessories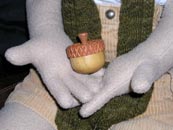 Click on the photos above to see full-size pictures.
We're in the process of collecting and making accessories for Bilbo. Since I am putting this Bilbo doll together with the intent of letting my children (the ones which I hope to have one day) play with him, my Bilbo's accessories need to be a little more kid-friendly. So far, he's the proud owner of a cool wooden toy version of his sword, Sting (as seen in the extended version of An Unexpected Journey and handmade by my Father for me for Christmas). As soon as the weather warms up around here, we're going to finish it with some stain and polyeurethane to make it shiny. Bilbo's also found an amazing wooden acorn, large enough to have come from Beorn's garden! We'll add more in later to share the rest of Bilbo's "important things".