Cumberland News: Dan Duryea Interview (1968)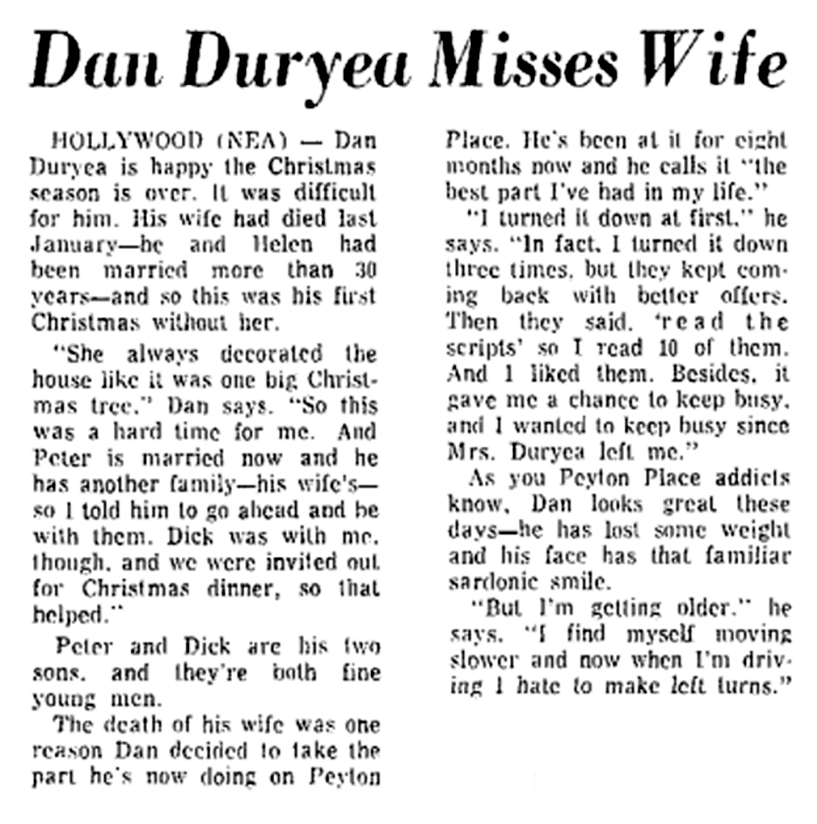 The Cumberland News
January 13, 1968

DAN DURYEA MISSES WIFE

HOLLYWOOD (NEA) --- Dan Duryea is happy the Christmas season is over. It was difficult for him. His wife had died last January --- he and Helen had been married more than 30 years --- and so this was his first Christmas without her.
"She always decorated the house like it was one big Christmas tree," Dan says. "So this was a hard time for me. And Peter is married now and he has another family --- his wife's --- so I told him to go ahead and be with them. Dick was with me, though, and we were invited out for Christmas dinner, so that helped."
Peter and Dick are his two sons, and they're both fine young men.
The death of his wife was one reason Dan decided to take the part he's now doing on Peyton Place. He's been at it for eight months now and he call it "the best part I've had in my life."
"I turned it down at first," he says. "In fact, I turned it down three times, but they kept coming back with better offers. Then they said, 'read the scripts' so I read 10 of them. And I liked them. Besides, it gave me a chance to keep busy, and I wanted to keep busy since Mrs. Duryea left me."
As you Peyton Place addicts know, Dan looks great these days --- he has lost some weight and his face has that familiar sardonic smile.
"But I'm getting older," he says. "I find myself moving slower and now when I'm driving I hate to make left turns."