Duryea Injured Filming The Flight of the Phoenix

Reno Evening Gazette
Saturday, July 31, 1965

'JINX' AIRPLANE FALLS TO FLOOR;
ACTOR DURYEA HURT

HOLLYWOOD, (AP) --- For the second time in a month, a plane crash has dealt a serious setback to the movie "Flight of the Phoenix."
Veteran stunt flier Paul Mantz was killed earlier this month on the Yuma, Ariz. location of the movie which stars Jimmie [James] Stewart.
Friday, a stage mockup of the same plane that killed Mantz was being rocked to simulate flying. It suddenly crashed off its supports and fell a few feet to the soundstage floor.
On the wings at the time were actor Dan Duryea, special effects man Jim White and actor George Kennedy. Duryea and the others went down with the plane. Duryea received cuts. Kennedy was unhurt.
Meanwhile, it was disclosed that stunt flier Paul Tallman, Mantz' partner, had his leg amputated in Good Samaritan Hospital after a freakish accident. Tallman, for whom Mantz was substituting at the time of his death, broke his leg while playing with his children. The leg became infected. Tallman said he will be back flying next week.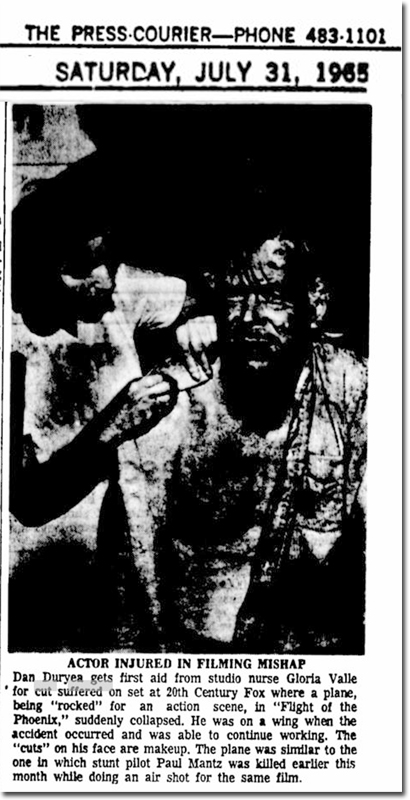 The Press Courier
Saturday, July 31, 1965

ACTOR INJURED IN FILMING MISHAP

Dan Duryea gets first aid from studio nurse Gloria Valle for cut suffered on set at 20th Century Fox where a plane, being "rocked" for an action scene, in "Flight of the Phoenix," suddenly collapsed. He was on the wing when the accident occurred and was able to continue working. The "cuts" on his face are makeup. The plane was similar to the one in which stunt pilot Paul Mantz was killed earlier this month while doing an air shot for the same film.