Stars and Stripes: Dan Duryea Interview (1955)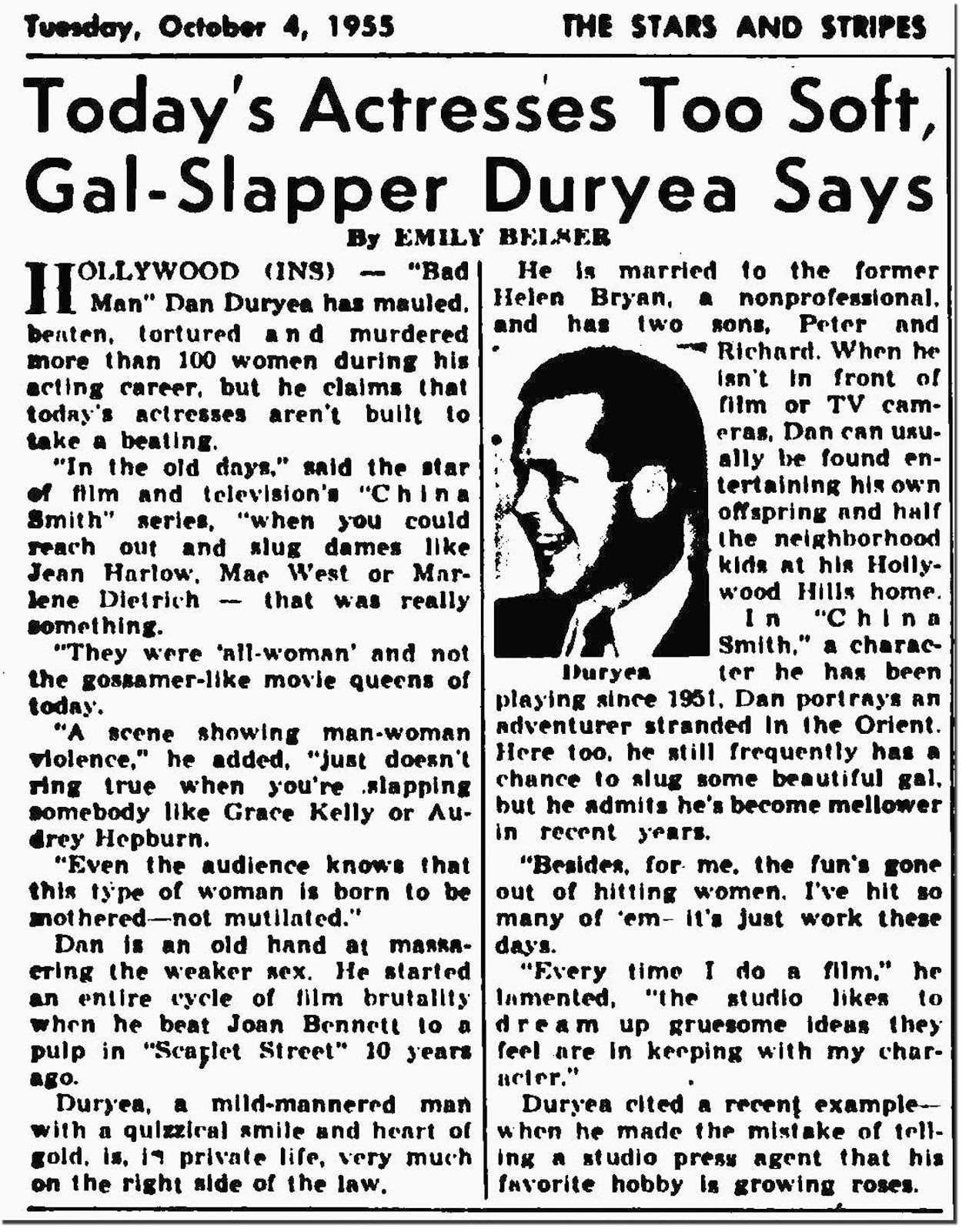 The Stars and Stripes
Tuesday, October 4, 1955
by Emily Belser

TODAY'S ACTRESSES TOO SOFT,
GAL-SLAPPER DURYEA SAYS

HOLLYWOOD (INS) ---"Bad Man" Dan Duryea has mauled, beaten, tortured and murdered more than 100 women during his acting career, but he claims that today's actresses aren't built to take a beating.
"In the old days," said the star of film and television's "China Smith" series, "when you could reach out and slug dames like Jean Harlow, Mae West or Marlene Dietrich --- that was really something."
"They were 'all-woman' and not the gosamer-like movie queens of today."
"A scene showing man-woman violence," he added, "just doesn't ring true when you're slapping somebody like Grace Kelly or Audrey Hepburn."
"Even the audience knows that this type of woman is born to be mothered --- not mutilated."
Dan is an old hand at massacring the weaker sex. He started an entire cycle of film brutality when he beat Joan Bennett to a pulp in "Scarlet Street" 10 years ago.
Duryea, a mild-mannered man with a quizzical smile and heart of gold, is, in private life, very much on the right side of the law.
He is married to the former Helen Bryan, a nonprofessional, and has two sons, Peter and Richard. When he isn't in front of film or TV cameras, Dan can usually be found entertaining his own offspring and half the neighborhood kids at his Hollywood Hills home.
In "China Smith," a character he has been playing since 1951, Dan portrays an adventurer stranded in the Orient. Here too, he still frequently has a chance to slug some beautiful gal, but he admits he's become mellower in recent years.
"Besides, for me, the fun's gone out of hitting women. I've hit so many of 'em --- it's just work these days."
"Every time I do a film," he lamented, "the studio likes to dream up gruesome ideas they feel are in keeping with my character."
Duryea cited a recent example --- when he made the mistake of telling a studio press agent that his favorite hobby is growing roses.